AVIONIX developed a next generation vehicle and asset tracking solution for the airport area called FollowMe. It does not use the 1090 MHz ADS-B frequency, but transmits on a 868MHz ISM free frequency band within legal signal strength limits using meshing technologies. In doing so, no special certification is needed and no interference with other systems are to be expected.

The design of FollowMe includes a high accuracy GPS receiver module, a microprocessor unit and radio transceiver module, gyroscope, accelerometer and magnetometer provide stable positioning under all conditions. Position update rates depend on the speeds of movement. The device features an extremely low power consumption, such that the device can work for months with a small battery or completely autonomous with an integrated solar panel. Radio communication works in two directional manner and interfaces are offered to exchange status information or remotely control equipment or instruct driver.
Additionally AVOINIX offers FollowMe1090, an tracking device based on ADS-B technology. It is transmitting ADS-B DF18 squitters on 1090MHz according to DO-260B. Transmission power is software configurable up to 20W peak. Download datasheet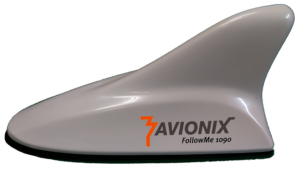 Also check out tss to get a complete picture of your airport traffic.